September 23, 2017 at 1:25 AM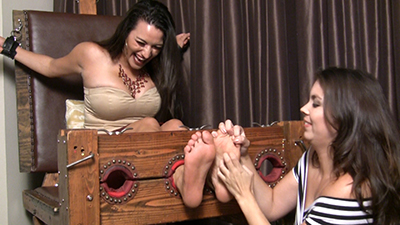 A couple years and several requests later, Classy Gina returns! Mai Mao can't wait to work her fingernails on her latin soles, underarms, torso, thighs and ears. That's right, we said ears! Gina's apparently very ticklish on her ears as well and she goes into more detail about that in the interview footage. Mai starts by tickling Gina's soles with the feather and feather tip as she enjoys seeing Gina cringe and trying not to laugh. Despite her efforts, Gina can't hold back as Mai uses her fingernails in a methodical manner to provoke more intense laughter from her. She mixes in periods of using the wombaton, flosser, brush and fingernails to keep Gina guessing and unable to anticipate what's next. From there, Mai focuses on Gina's knees, torso, underarms and ears creating noticeably stronger thrashes from Gina. With Gina's arms suspended above her head, Mai calls for reinforcements to further exploit Gina's ticklish upperbody. Now with a tickler on each side, Gina's desperation on her face amplifies as she's laughing uncontrollably and desperately trying to get away but can't. The clip ends with Gina giving comments about her experience, what tickled the most and how she feels. As always, the interview footage is absolutely free!
This clip is available for purchase EXCLUSIVELY via our ONLINE STORE.

Please add a comment
Leave a Reply