July 28, 2017 at 12:01 AM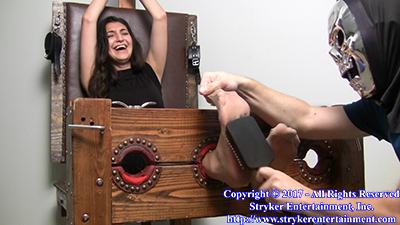 Tall Jasmine is a very conservative 5'11 Islamic young college girl at 21 years old with size 10.5 heels. She's very hesitant at first to have a seat in the stocks but admits she loves laughing. She's driven by the fact that if her laughter makes someone else's day more pleasant than it's worth it to her and gives it a shot. When we remove her heels and expose her nylon-covered soles our initial tickles provoke modest laughs from Jasmine. After employing the brush, however, Jasmine's reactions become noticeably more pronounced despite her reserved nature not to let it get to her. This trend continues as we tickle her long torso and underarms - provoking strong thrashes as she tries to escape to no avail. When she realization kicks in that her height will do her no good in this sitation, she begins to plea, admitting that she cannot handle it. With her big bare soles exposed and big toes tied back, we begin teasing her with the feather and soon realize that between her toes is a very bad spot for her that we exploit to no end. She balks more violently and her pleas become more broken down. At the end we simultaneously tickle her ribs, torso and underarms together. This clip comes complete with pre and post interview footage at no additional cost.
This clip is available for purchase EXCLUSIVELY via our ONLINE STORE!

Please add a comment
Leave a Reply