December 25, 2017 at 12:46 AM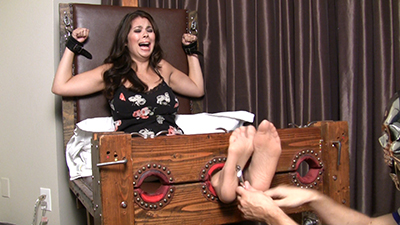 Mai has enjoyed tickle torturing the young ladies that have come through lately. Now it's her turn to be on the receiving end and she's nervous about it. Initially she thinks it won't be that bad, but quickly learns that is not the case. We start with some nylon tickling on Mai's soles using a combination of feathertip, fingers, the wombaton, and even the brush. Next, Mai's vulnerable underarms are exploited with intense tickling as she struggles to not give into the sensations but fails. After that, we tie Mai's big toes back and double up with 2 on 1 tickling on Mai's soles – using the feather, feather tip, flosser, wombaton, and brushes. Poor Mai is forced to endure even more as we strategically tickle her on each side of her upper body. No matter which way Mai tries to thrash, she cannot escape those tickly fingers! We then move Mai's feet to the outside stocks and with her toes tied, tickle away with all of the tools we have. Mai really loses it when we use the dual brushes on her Asian soles. Exhausted, she surely can't take anymore, but it doesn't stop there. The clip concludes with us tickling Mai's upper body, torso, thighs, knees, and hip. The clip comes complete with pre and post interview footage at no additional charge.
This clip is available for purchase EXCLUSIVELY via our ONLINE STORE.

Please add a comment
Leave a Reply