June 02, 2018 at 7:43 PM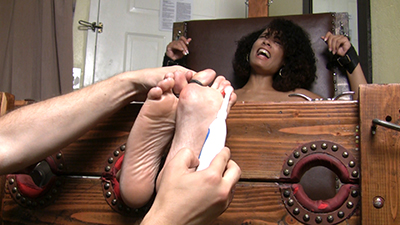 Eva is 23, 5'7 with a size 7.5 shoe. Eva loves to laugh and was curious to see just how much she'd laugh today. After a brief introductory interview, we begin with some soft feather tickling on Eva's bare soles. She lets out some audible giggles with a curious look, but once the feather tip is applied, she can no longer handle her composure. Next, we experiment with the bear claw, brush, and flosser. We find all three to be very effective – especially the flosser on Eva's toes. From there, we find Eva's torso and underarms are very sensitive to feather and fingertip tickling. We tickle her torso both with a feather, feathertip, fingertips and even the flosser! Eva's laugher and reactions get noticeably more pronounced and her voice tone higher pitched the more we tickle. Later on, we add baby oil and with Eva's toes tied back, aggressively tickle her using all of our tools – sometimes simultaneously in combination! This all proves too much for Eva who is noticeably exhausted. She's pushed beyond her limit. The episode concludes with commentary from Eva about her experience. She admits that the experience was far more intense than she ever could have imagined!
This clip is available for purchase EXCLUSIVELY via our ONLINE STORE.

Please add a comment
Leave a Reply