May 10, 2017 at 10:19 PM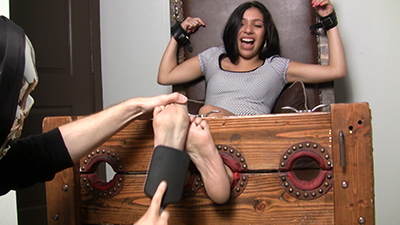 Laura is 19 years old from Colombia, 5'4 and has a size 7.5 shoe. Laura loves to laugh and is anxious to see what this is all about. After a brief introduction, we remove Laura's shoes exposing her silky Colombian soles. We determined that Laura's soles are most ticklish with the brush and feather tip and we exploit that fact as she thrashes about in laughter, pleading with us to stop in both English and Spanish! Her thrashing is amplified as we work our way to her upper body - tickling her underarms, torso, ribs, belly button and thighs. The desperation on her face intensifies as the reality of her predicament sets in. With nowhere to go Laura's forced to endure the horrid tickling that is driving her crazy. Once in swimwear, we tie Laura's big toes back and apply baby oil, which intensifies all of the barefoot tickling for poor Laura. We take full advantage of this and tickle her beyond her control - refusing to stop despite her thrashing and pleas - which are now including curse words in both English and Spanish! With her upper body more exposed we tickle Laura in multiple areas - both isolated and together. It proves too much for the poor young Colombian as she's noticeably exhausted and accepts her fate with uncontrollable laughter. Towards the end we have her friend tickle her bare soles and upper body. The temptation was too much for her to pass up! The production ends with Laura giving her comments about her experience and how she feels.
This clip is available for purchase EXCLUSIVELY via our ONLINE STORE.

Please add a comment
Leave a Reply