November 23, 2012 at 12:17 PM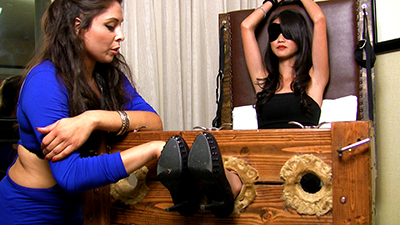 Tan lives a double life - to most of the world she is an international, sophisticated businesswoman specializing in marketing, but that is just a cover. Her true profession is a government spy. She's been able to keep her cover in tact for years - never being made by any threatening marks...until tonight! Unfortunately for her, our beloved Jazmine has made her and knows she has secrets which can help further her own political agenda. Jazmine gives Tan a chance to talk, but Tan is far too strong-minded to just cough it up and refuses. From there, Jazmine begins the tickle torture first on Tan's nylon-covered size 7 soles. She then moves to her unbelievably tender underarms and torso area, which are completely exposed and above her head. The nylons come off and her soft asian soles are noticeably more sensitive without them. As things progress she gets more and more aggressive and even invokes the assistance of one of her superiors to further crush her determined spirit! Tan is extremely tough and Jazmine really has her work cut out for her. Will she end up with the information she seeks?! Only one way to find out! This clip features nylon, bare, upper body and all over tickling. Tools used include the feather, brush, oil and of course Jazmines tickly nails!
This clip is available now in our ONLINE STORE


Please add a comment
Posted by
philip
on
Aug 11th, 2017
I really like this covert interrogation tickling video of
Ta su having her feet tickled . It really makes me feel good.and especially those foot stocks which I really love. I wish I was there to tickle her feet as well
Will there be a part 2?
And is there a full clip online?
Leave a Reply