October 27, 2012 at 4:30 PM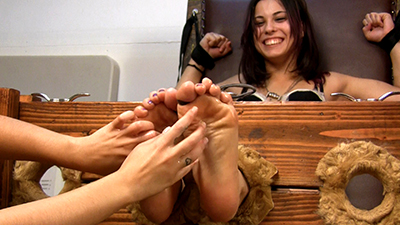 Ever since her appearance in Get Ready For This and acting as the ler in The Ticklish Gamer, all of you have wanted to know when Christina would get her much-deserved revenge on our gamer, Cinea. Well, the patience has paid off, because that day is today! It's been a year since Christina was in the stocks and Cinea hasn't forgotten about the unmerciful tickling she put her through! Christina is nervous about being tickled because she knows how badly she tortured Cinea nearly a year ago. Cinea wastes no time extracting her revenge, starting with Christina's nylon-covered size 7soles. Next, she works her way through her silky legs, squirmish thighs, sensitive torso and tender underarms, not heeding to any of Christina's pleas to stop! Finally, Cinea ceases the opportunity to tickle Christina's bare soles. She has her way with her extremely sensitive soles - mixing in a combination of sensuality with sporatic tickles to keep Christina off guard. Finally, she lets her have it and breaks out all the stops, using her manicured nails to drive Christina crazy! As if that's not enough, she uses feather tips and the brush in a trully unrelenting fashion to reduce Christina to uncontrollable laughter. It gets so bad Christina even curses at Cinea towards the end! Undeterred, Cinea keeps going and makes sure that Christina remembers that this gamer plays for keeps.... and this is one game she is NOT going to lose! When asked about her experience, Christina said "that F*n sucked that was torture x 10!"
Avaiilable at our ONLINE STORE

Please add a comment
Posted by
Eric
on
Nov 9th, 2012
Great preview.
Posted by
Erik
on
Aug 16th, 2014
I love this tickling video
Leave a Reply