Nurse Cassie - Cancer Awareness Cause Clip
October 19, 2012 at 7:48 PM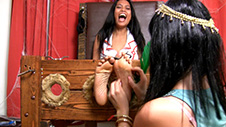 This clip was done out of respect to one of our forum's own as part of Cancer Awareness Month this October. This individual recently battled cancer and is in tough financial times. In an effort to help this individual and his family, who are exceptionally great people, all proceeds from the sale of this clip will go to an individual who recently battled cancer and is struggling financially. He has posted his story, in detail, for you all to read as the first response to this thread. This was a very real battle... and the financial pressures are very, very real. It is our hope the community will help this family in need and we are doing our part to help them get back on their feet. We hope you will enjoy the clip details below.

Nurse Cassie is quite ticklish in the right spots and Cleopatra and Olga are determined to find and exploit them at any cost! The team starts off slowly, teasing Cassie's arched asian soles with feathers and light fingernail scratches. They progress to her upper body and find several more target areas that make her jump and squirm in a futile attempt to escape. Once they figure out all her key spots, they turn up the torture immensley. Poor Cassie is tickled on both the inner and outer set of the stocks as well as her upper body with her arms suspended. They pull out all the stops - employing feather tips, oil, brushes, everything it takes to make this Nurse fall to the tickling!
This clip is available exclusive in our ONLINE STORE

Please add a comment
Posted by
T
on
Oct 19th, 2012
Over the last 6 months I've helped Stryker grow his brand and my primary objective for doing this was not monetary compensation but to help someone I believed in. I found out through working with him that he's not only a good producer, he's one of the best human being's I've ever met. He doesn't have a mean bone in his body and has offered to help me numerous times throughout our working partnership together as it has been an extremely brutal last few months for me.
Before I get into my own backstory allow me to say that because of the nature of my work with him, this is the only help of his that I agreed to for the simple reason that he's a really good guy in person but many of you do not and will not get to see that side of him because of the semi-detached relationship between producers and their customers and fans. I offered up this idea because aside from being helpful to me and my family, it enables you guys to see Stryker the person instead of Stryker the producer, one that I'm incredibly grateful to call a friend after our time working together.
I had been feeling very run down over the last year or so. I was struck by lightning about 12 months ago and had a major reconstructive surgery on my right ankle that also involved a tendon graft from the back of my knee. Those two things alone set me back quite a bit on their own, but things (unfortunately) got worse when my son Tristan was born. He's 4 months old now and doing great thank God, but when he was born he had fluid in his lungs leading to an extended hospital stay until my wife and I could come home with him. A couple of months after his birth I had a battery of tests run to find out once and for all why I was feeling so fatigued and worn out non stop. I usually have a lot of energy and I'm only 28 so this shouldn't have been such a big problem at this point in my life. Fortunately because of those tests we found a growth that came back cancerous. I went through radiation treatment and just found out two weeks ago that they were able to get it all. No sooner did I get that news than my wife had to have an emergency gall bladder removal and due to complications resulting in two more procedures and yet another hospital stay.
Because of all the time lost due to my wife and son's hospital stays plus my radiation, I've been unable (as hard as I've been trying) to keep up with bills and our finances are a wreck because of the time my wife and I missed from our respective jobs. I know most of you don't know me and this may just be another sad story in a world that's seemingly full of them. But I really appreciate you even reading this, it means the world to my family. And Stryker has only done this because he knows I'm a good person that's just trying to do right by my family. So regardless of a clip purchase I just want to thank everyone for their time and anything that may come of this. It's been quite a long last 12 months for me but it seems as though the storm clouds are finally parting. Despite everything that has happened though I remain optimisic and am thankful for my beautiful baby boy and the life I have. I'm fully cognizant all of this could've been even worse and because of that, am very much appreciative for all that I still do have and that wasn't taken away from me.
If anyone has any questions, comments, would like to make a direct donation without buying a clip or anything else at all please feel free to message me on this username and I will get back to you as soon as I possibly can.
Leave a Reply