December 11, 2012 at 12:24 PM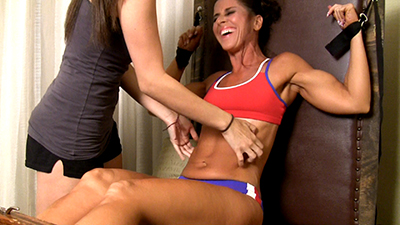 Franny is a mature athletic runner who's always looking for that extra competitive edge to put her over the top. She boats rock-hard abs and size 8 soles. She takes her training very seriously, so when our latest apprentice Veronica approaches her about a new cardio technique, she doesn't hesitate to check it out. The only problem is, Veronica is more concerned with breaking Franny into hysterics rather than monitoring cardiovascular efficiency. Franny HATES to show vulnerability of any kind and fights to maintain composure at every step, but Veronica isn't discouraged. This clip features sneaker/sock removal, bare, upper body and all over tickling.
This clip is available for purchase from our ONLINE STORE.

Please add a comment
Posted by
Larby
on
Feb 15th, 2013
:(
Leave a Reply