December 07, 2012 at 3:04 PM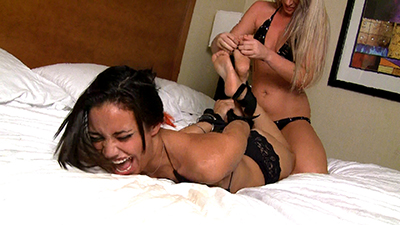 When Marise heard of our latest addition to the team and how ticklish she was, she absolutely wanted to meet her so we arranged it. Marise found her size 6.5 soles and tan torso amazingly attractive and made up her mind she was going to have her way with Jaz Colon and wasted no time hog-tying her in her swimsuit. Jaz is insanely ticklish and Marise enjoys watching her squirm and plea for her to stop. With nowhere to go, Marise has all the time in the world to make this stunning latina laugh out of control and does just that! This clip features bare, upper body and all over tickling with some sole worship too. Nails and a feather are also used and work amazingly well since Jaz is so sensitive!
This clip is available for sale in our ONLINE STORE!

Please add a comment
Leave a Reply