December 01, 2012 at 3:39 AM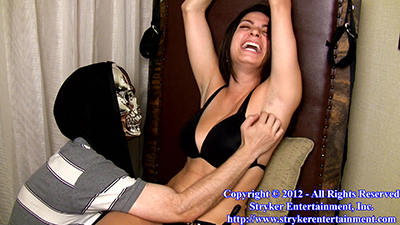 Veronica with her highly arched 8.5 italian soles enjoys tickling our models and is conident she can handle anything dished out to her. No sooner said then to give her unrelenting tickle torture! Veronica has very sensitive soles and even light touches with a feather provoke her to giggle. This is rivaled only by her soft, silky underarms which are exposed above her head. This clip makes use of a feather and brush along with some oil and contains some additional upper body segments as well. This clip features bare, upper and all over tickling.
This clip is available at our ONLINE STORE

Please add a comment
Posted by
Eleuterio
on
Mar 1st, 2013
this lady has one of the most beautiful underarms that i saw in muy life....soft, silky, sensible, nice beautiful skin colour....¡wow¡...if i could, i´d lick her underarms to tickle her all day until she pisses.
Leave a Reply