October 27, 2012 at 4:03 PM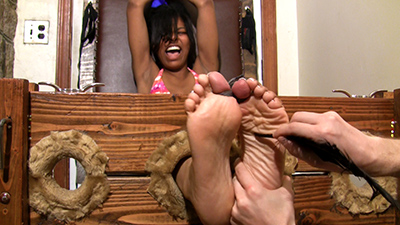 Mrs. Officer is an upbeat 19-year old college student with smooth, silky and high-arched 8.5 feet. When asked how she felt about being tickled, she says she's very ticklish but since she's "the bomb", she can take it, no problem. Boy was she wrong! Mrs. Officer starts off with some wise cracks during the early, light phase of the tickle torture, but those quickly turn into pleas once the assault intensifies. Her soft, arched soles can't take the combination of feather tips, brushes, oil and the wombaton. Her upper body is just as bad, as those tender armpits and ribs get worked over and her pleading only worsens the longer it goes. Even her athletic thighs fall to the uncontrollable tickle sensations she feels. By the end of the clip, Mrs. Officer is exhausted, broken, but still upbeat and a good sport about everything, saying if you like her laugh she'd do it again hands down!
Available at our ONLINE STORE


Please add a comment
Posted by
wondertickler
on
Nov 21st, 2012
I absolutely enjoyed this video. Mrs Officer is a very feisty chick who is broken by the tickler. And she looks great in that bikini while she's squirming around.
Leave a Reply